2023-04-18
Gardening Season is here! – What to buy on sale
Brighter and warmer days are upon us and with them we welcome the extra time we can spend outside with our friends and family.
Whether you have a garden, a terrace or a balcony nothing can stop you from making the extra time you spend there more enjoyable and comfortable.
Update your outdoors area no matter how spacious it is with some new outdoors furniture and plants creating the place you are looking for to have great times with friends and family!
Shop from any online shop in Poland, Germany, Italy or France, EshopWedrop is here to deliver your orders in România with international delivery cost starts from just 18,98 RON!
Check here the best gardening deals, from tools to furniture, we found for you online:
**Offers are valid at the time of posting this blog
Deals are posted on a regular basis by our sales hunters on Facebook, so stay up to date, follow us today!
Don't have an EshopWedrop account yet?
Registration with EshopWedrop is completely FREE! Sign up today, and get your first EshopWedrop delivery for FREE** (T&Cs applied)
Sign up here.
Terms and Conditions
To qualify for the FREE EshopWedrop delivery, verify your identity today and unlock your personal EshopWedrop Delivery addresses. The FREE EshopWedrop delivery discount will be activated automatically and will be valid for one month from the activation of your account (i.e. the moment you unlock your EshopWedrop delivery addresses). This discount is valid only for EshopWedrop delivery charges up to the value of 10EUR and cannot be used in conjunction with any other discounts offered by EshopWedrop.
Sign up today and receive your first EshopWedrop delivery from any online shop in Europe or USA for FREE!
Shop from USA & Europe Receive in Lithuania
1st DELIVERY FREE
By using the Eshopwedrop website you agree to our use of cookies as described in our cookie policy. Read more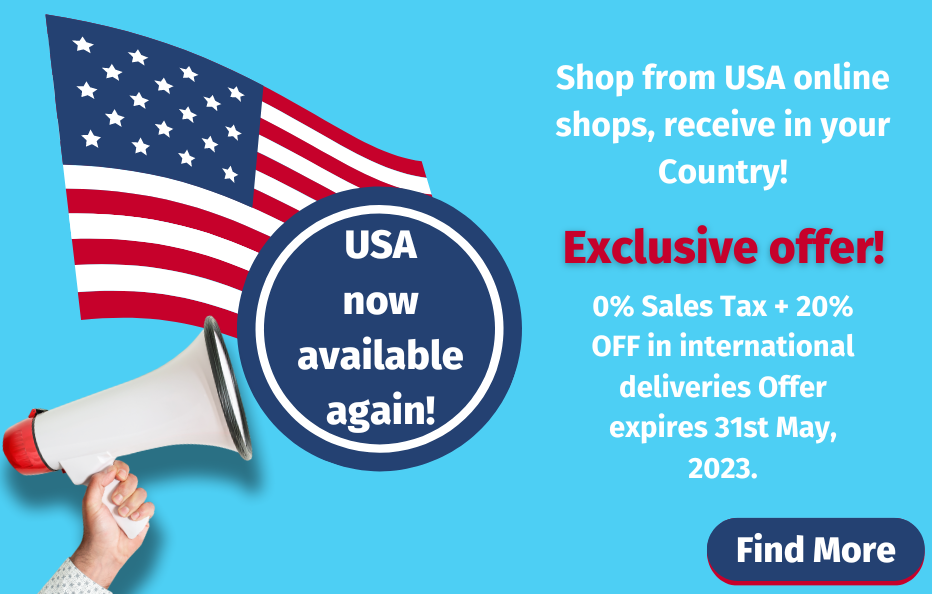 Please wait while we will validate your ZIP code